UNAM Press Overview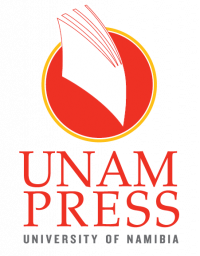 UNAM Press is the publishing unit of the University of Namibia, housed in the Centre for Research and Publications (CRP), see www.unam.edu.na/unam-research
The Vision of UNAM Press is to be the leading publisher of scholarly research and innovation in Namibia.
UNAM Press publishes works on topics related to Namibia and the Southern African region, reflecting the strengths of the University and the best scholarship in and on Namibia and the region. Published and forthcoming titles include studies of literature, language and culture; education and democracy; statutory and customary law; public policy; social and political history; autobiographies; and indigenous knowledge.
UNAM Press thus plays a vital role in fulfilling the vision and mission of the University, as defined in its key statements, by:
Disseminating the results of the university's research across a broad spectrum of real-world problems, in order to communicate and share this research with others and so contribute to nation-building.
Serving as a repository for the preservation, development and articulation of national values and culture, through the promotion of Namibian history, art and languages.
Engaging with society in the creation and dissemination of knowledge.
Becoming a treasure house of knowledge at the service of national development.
Our publishing programme is guided by the UNAM Press Policy approved by Senate in 2011, and the Research and Publications Committee of Senate.
An Editorial Board works with the UNAM Press unit to implement policy and approve or reject publication proposals and manuscripts. Submissions go through initial evaluation by the Publisher and Editorial Board members, and selected manuscripts of interest are sent for double-blind peer-review.
UNAM Press engages critically with content and language, design and technology, to ensure that its publications are of high academic, editorial, and production quality.